Andreas Gursky ushered in the giant photographic prints area (with stratospheric price tags).
I remember going to MoMA in 2001 to see Andreas Gursky's exhibit. The sheer scale of the prints and of the scenes he captured was mind-blowing. The size might have been gigantic, but every detail was there. It might be a crowd scene, but you could make out every single person in it (that is, if you were able to get close enough to the print with a loupe!).
People are dwarfed in his images – if they are present at all! People are dots on the image, no bigger than ants at times. Gursky's subject is what people have built, not people. The few human figures in his photographs seem insignificant compared to where they stand.
Andreas Gursky often prefers an empty stage: the environment is man-made, but man is nowhere to be seen. His work is a reminder that the gigantic structures we built are all that will be left of us after we're gone. We are confronted by miles and miles of supermarket aisles, of buildings or hotel floors… all empty and lifeless.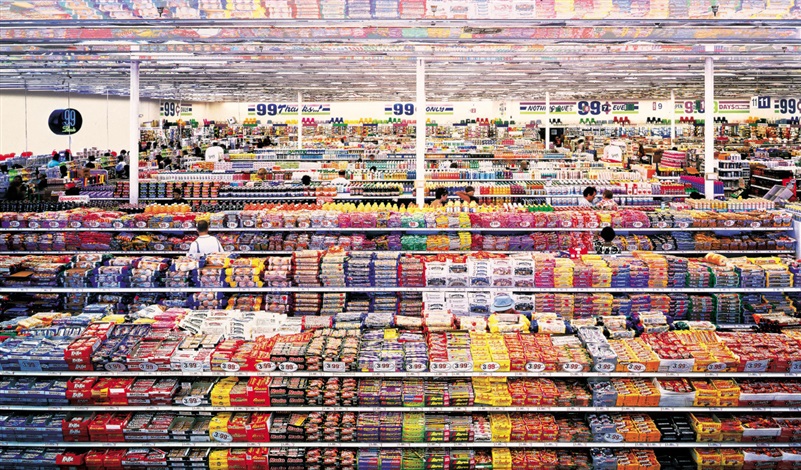 Born in Germany in 1955, Andreas Gursky studied photography under Hilda and Bernd Bechner who are famous for their "clinical" photographs of industrial structures. This experience led him to favor strong lines and strict geometry. Other influences were John Davies, who photographed landscapes and cityscapes from a high vantage point, something we often see in Gursky's compositions. 
His colors are poppy and vibrant, adding to the sensory overload one experiences when in front of his images. Most of his prints are gigantic – some of them up to six feet high by ten feet long! The image overwhelms and engulfs you. It's a disorienting experience as you feel simultaneously far from the scene and part of it.
While he started in the film days, he was an early adopter of digital cameras and computers. The new technology allowed him to go ever bigger, stitching multiple images to create his panoramic work.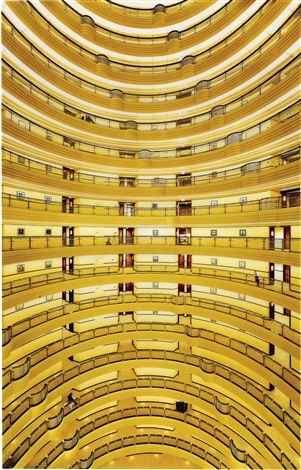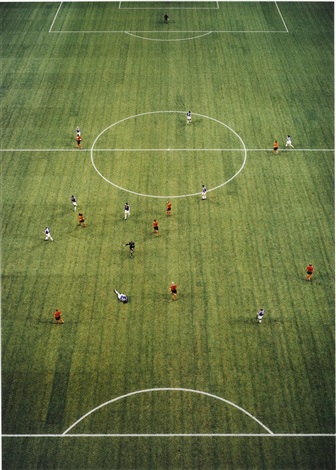 I recently read that the 1990s German photography school doesn't sell as well as it used to (except for Gursky, who shattered records when his Rhein II print sold for US$4,338,500 at Christie's in 2011). Some explained the slump by the fact that most prints were so large that neither museums nor private collectors had the physical space to display them! I'm not sure it's that simple… but it is a bit ironic to think what made the works famous, their scale, might be what limits their success in the end.
© Andreas Gursky
Disclaimer: Aurelie's Gallery does not represent Andreas Gursky. My "Photographers I love" series is purely for inspiration and to encourage discussion.